We have the numbers, the latest on the cleanup, and a surprisingly adorable photo of a porcupine
PLUS: Will the crushed rock trail ever extend south toward Bridge?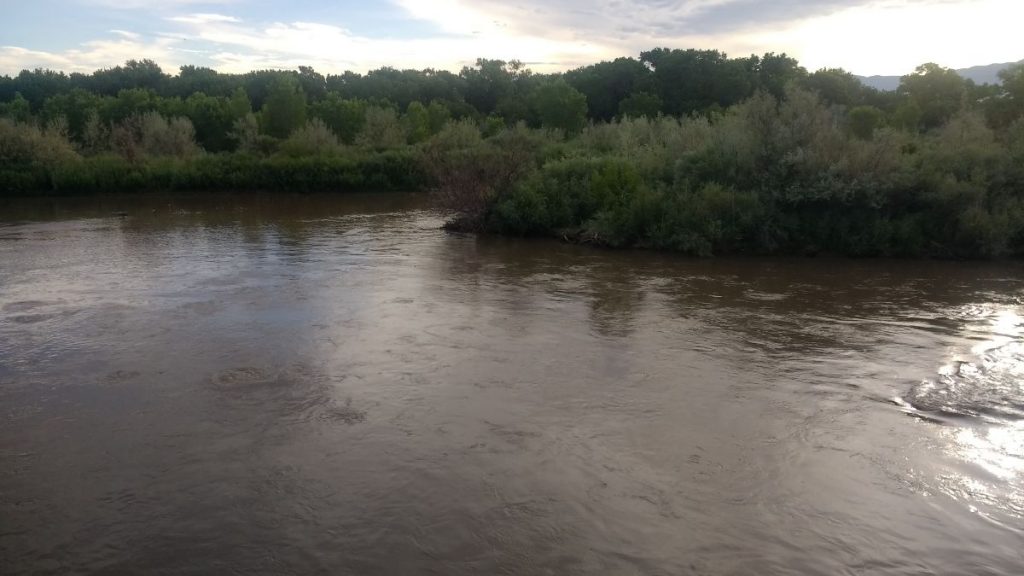 ---
EDITOR'S NOTE: Downtown Albuquerque News is free and available online through August 16. After that, only subscribers will be able to read it (delivered by email every weekday). Make sure you're one of them by signing up today.
---
The Rio Grande's epic 2019 flood has only barely receded in recent weeks, leaving the city with the big job of cleaning up fallen trees and other debris from the bosque. But while the waters pushed hikers and mountain bikers toward higher ground for a few months, it proved a bonanza for wildlife and the health of the river forest itself.
By the numbers
In terms of peak water flow, we haven't seen a flood like this since 2005 (but 2017 came close):
But peak numbers don't tell the whole story here: This flood, unlike those that came before it this century, had staying power. This year we saw a biblical 40 days where the U.S. Geological Survey gauge at Central registered a river discharge over 4,500 cubic feet per second (that's about three Olympic swimming pools per minute). The 2017 flood saw only seven days like that. The 2008 flood, nine. Even the 2005 flood, the record peak water flow since 2000, saw just 19 days above that threshold.

A boon to the bosque
We owe this aquatic bounty not so much to local rain but to snowpack in the upper reaches of the Rio Grande watershed, says Kim Eichhorst, the co-director of the Bosque Ecosystem Monitoring Program at UNM. Northern New Mexico and southern Colorado got above-average precipitation over the winter, and so wildlife and trees in Albuquerque benefit in three main ways:
Speedy decomposition of dead leaves, fallen branches, and logs. The same principles that turn a moist compost pile into soil also work in the bosque, freeing up nutrients for the next generation of plants and animals.
Reduced fire danger. Fewer small pieces of dry material means less stuff to burn.
Giving cottonwood seedlings a chance. They need two main things, Eichhorst says, to grow: saturated ground and space. The water is certainly there, though space may be harder to come by given the dominance of older, bigger trees. One possible bright spot for cottonwood babies is that flooding rots out the roots of bigger trees and loosens the ground, so they often come crashing down, freeing up at least some space for the next generation.
More water also means more wildlife. Barelas resident Riana Nordquist, a near-daily bosque walker (along with Leibniz, her miniature poodle schnauzer mix) reported more coyotes than usual this year, as well as more frequent porcupines, like this one she photographed in late winter: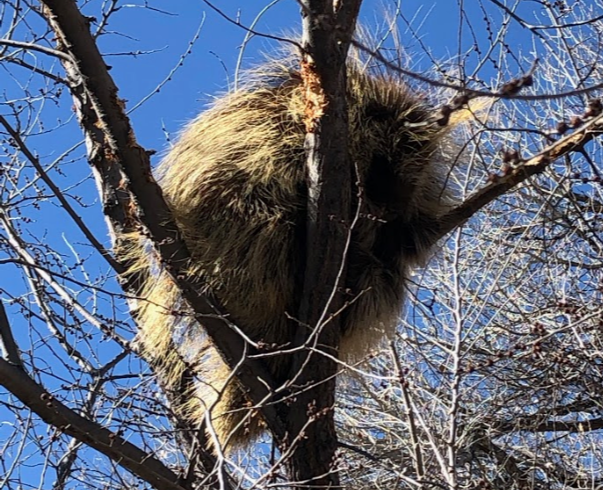 But another less welcome life form is likely winning the numbers game.
"The mosquitoes are nuts," says Sean Solowiej, who also lives in Barelas a stone's throw from the bosque and recreates in it frequently. "I just don't even go outside at night." He hastens to add: "I'm from northern Minnesota. I know mosquitoes."

It's not just Solowiej's imagination. June's numbers were worse than the previous two seasons combined.

"I've been with the city almost 15 years, and this is the worst I've seen it," says Mark DiMenna, the deputy director of the Environmental Health Department. "And we're not even in the monsoons yet."

The bugs are most concentrated in the bosque and tend to thin out the further away you travel, but DiMenna says it's difficult to establish an exact mosquito sphere of influence. That's because while they definitely hunt up their immediate neighbors on their own steam, looking for targets among the residents of West Old Town, West Park, Huning Castle, and Barelas, they also hitch rides on wind currents. Using that method they can end up all over Downtown and the metro area. Wind at night is especially likely to spread them around, since that's when mosquitoes are in the air anyway.
Worse still, news broke last week that some of the mosquitoes are carrying the West Nile virus. DiMenna couldn't recall offhand Friday whether any of those particularly worrisome mosquitoes had been found at the city traps set in the DAN Zone, but he said they tend to pop up all over the place very quickly whenever West Nile is found, so it's a pretty good bet. (The city's collection of 20 traps use lights and dry ice – which emits carbon dioxide just like other mosquito targets – to attract the bugs, then a fan blows them into a net for safe keeping. Once a week, someone comes around to collect and then count up the trapped insects, even separating them out by species.)
Cleaning up
Mother Nature certainly didn't mind, but the flooding created a great deal of extra work for city crews. The water pushed piles of sticks large and small into the middle of low-lying trails and aggregated sand in other parts, making it nearly impossible to navigate some sections on a mountain bike during an inspection tour on July 23. DAN also found three fallen trees blocking trails in the stretch of bosque south of Tingley Beach. Earlier in the summer, the paved bosque trail even flooded where it dips under Bridge.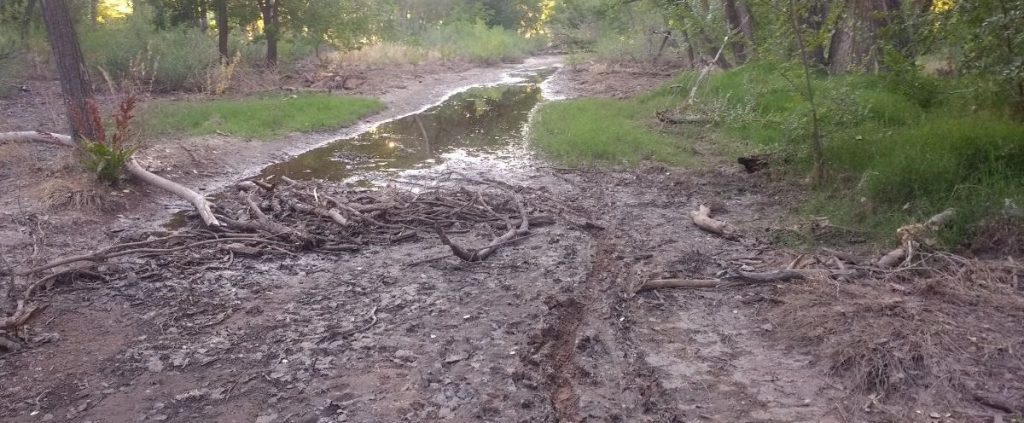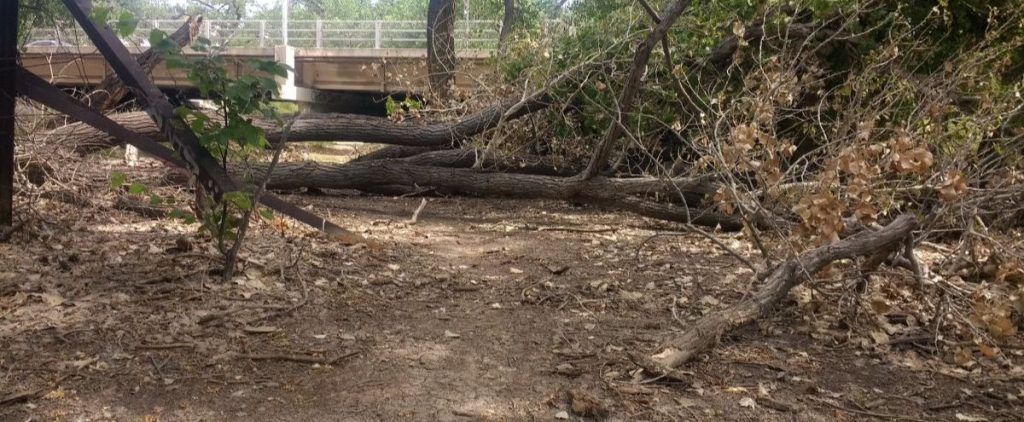 "Most of that [work] should be done by the end of summer," says Philip Clelland, spokesman for the city's Parks and Recreation Department. He added of the falling trees: "Those are definitely higher priority."
City crews – which often consist of high school students hired for the summer – have already spent time in the stretch of the bosque north of Central, adjacent to West Old Town. DAN's inspection didn't find any trail blockages in that stretch as of July 15.

One of these trails is not like the other
The trail in the north-of-Central stretch is better set up to resist flooding anyway, says Christina Sandoval, who manages capital improvement projects for Parks and Recreation. That's because it's made of crushed rock (called "crusher fines") and a special sealant that holds the compacted mass together. The trails south of Tingley Beach, on the other hand, are largely just bare earth.

That's all thanks to a controversial trail building initiative started by former Mayor Richard Berry. The crushed rock trails – generally six feet wide and built to ADA standards – now stretch north to Montaño in the North Valley. The project drew fire from environmentalists who wanted to maintain a lighter human touch in the bosque and others who said the project required a more thorough public airing.

But whatever the underlying wisdom of the trail building, it does seem to have brought many more people to that part of the bosque. South of Tingley Beach, "You can tell – it's not used as much, Nordquist says. "The traffic just continues to increase and increase as you get to I40, It's more and more every year."

Besides the trail itself, the southern stretch doesn't feature of the same level of supporting infrastructure either. Unlike the area north of Tingley Beach, there are precious few signs advertising that there is a trail at all. The benches, too, are fewer and farther between, and though the ones on the river viewing platform are new as of last year, others have seen better days.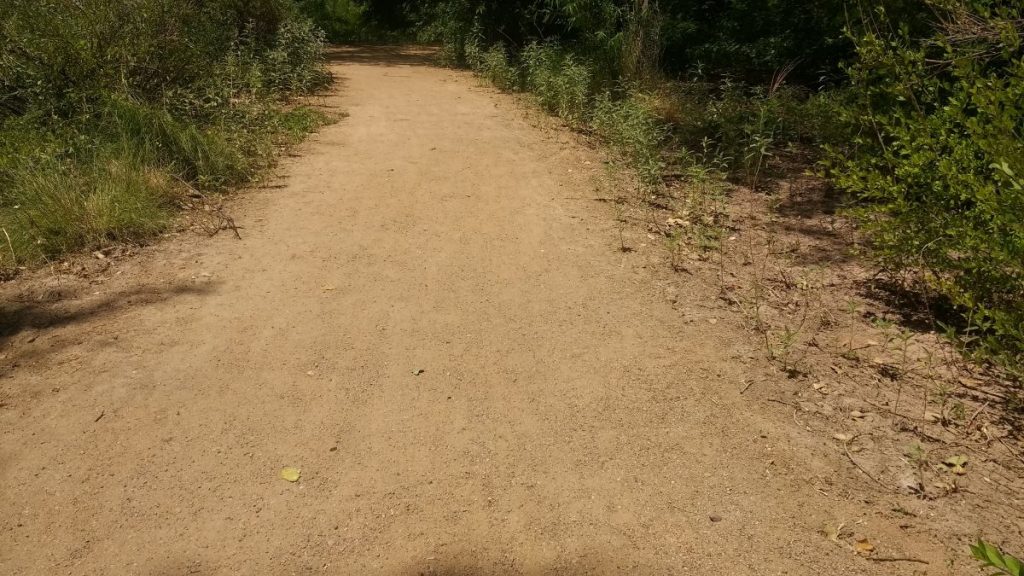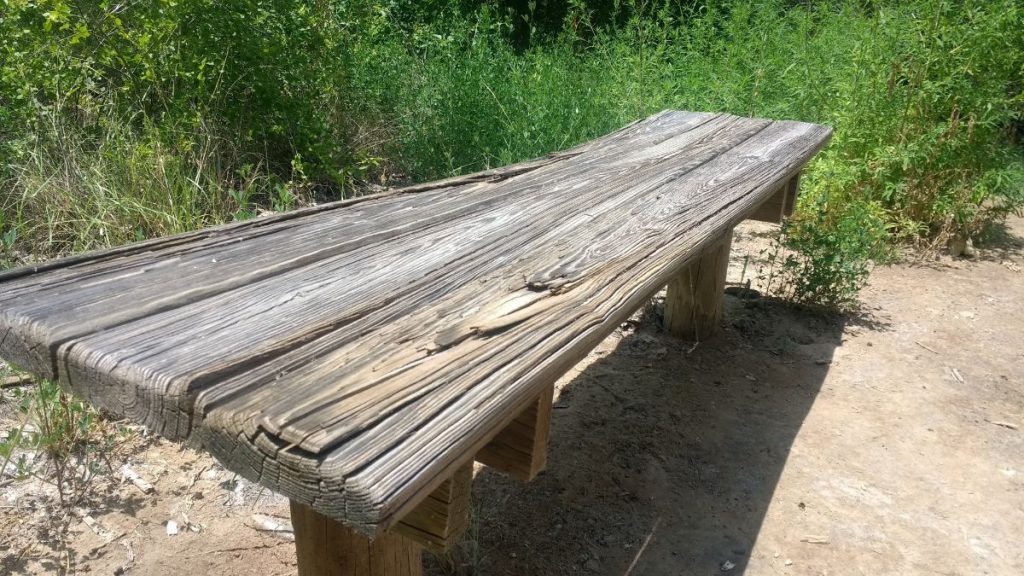 It all contributes to an atmosphere in the southern stretch that could either be classified as deliciously wild or creepy and dangerous, depending on your point of view.
Sean Solowiej sees an informal line of demarcation at the two ponds that make up a wildlife viewing area on roughly the latitude of Tingley Beach: "Around there I see single women running – usually with a dog," he says. "Further south, the most I'll see is people whizzing by on a bike – usually in groups."
The area around Bridge especially is "really intimidating," he says, and sometimes features people "you really don't want to deal with…If I'm feeling it, that may have a huge impact on why people don't like going south."
For the time being, the city's Christina Sandoval says, there are no plans to extend the crushed rock trail south. (Though she did request more information on the forlorn benches, so DAN sent her photos and GPS coordinates.) Doing so would require a thorough public process, she says, and "at this point we haven't had a really big outpouring of people wanting that extended."
Sandoval may work for a parks department, but she cautions that the bosque is no ordinary park: "We just want the public to be thinking of it as a changing, dynamic area," she said. "The bosque is a living breathing organism. We don't want to over-manage it."
---
THANKS! We're glad you enjoyed that article, but Downtown Albuquerque News is only free and online through August 16. After that, it will be delivered only to subscribers (by email on weekdays). Since you got all the way to the end, we're guessing that you're the kind of person who cares deeply about Downtown neighborhoods and demands news coverage that's more detailed and more local than you thought possible. If that's true, sign up today and don't miss a word of DAN.