Welcome to our monthly look at Downtown climate and transportation statistics! We'll be running a DAN Index nearly every Wednesday, covering such additional topics as hospitality and entertainment, social factors (crime, library book checkouts, soup kitchen meals, etc.), and real estate.
Let's dive in with a look at everybody's favorite river: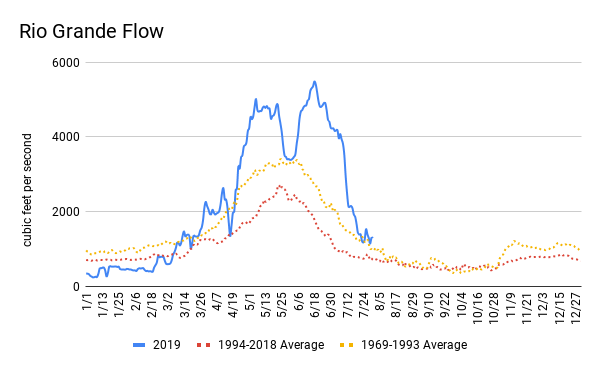 Since this is the first ever DAN Climate and Transport Index, we'll be talking more than usual about the bigger picture rather than just the month-to-month trends, and the flow of the Rio Grande is no exception.
---
EDITOR'S NOTE: Downtown Albuquerque News is free and available online through August 16. After that, only subscribers will be able to read it (delivered by email every weekday). Make sure you're one of them by signing up today.
---
The long term story is that starting in 2000, we started seeing much drier conditions in the river's headwaters in northern New Mexico and southern Colorado, says John Fleck, the water policy expert at UNM. That's reflected in the 1994-2018 average line, and the wetter period before that is illustrated by the 1969-1993 average line. In the future, he says, climate change is likely to minimize flows because warmer temperatures will mean less snowpack and more evaporation upstream.
But of course 2019 is an example of why "likely" does not mean "guaranteed" – hence all the flooding we wrote about in Monday's DAN and those blue spikes you can see on this chart. It looks like we've returned to something resembling normal, though the monsoons may yet make things interesting.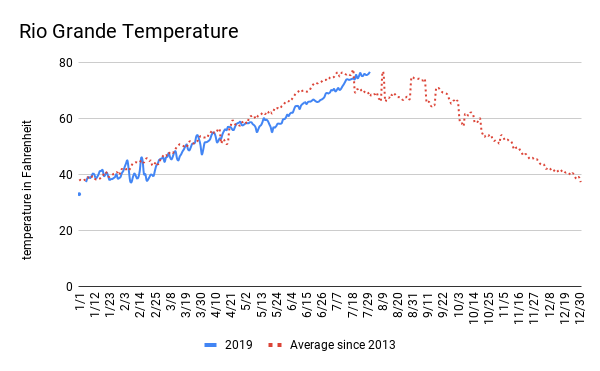 We'll also be following the temperature of the Rio Grande, though perhaps not every single month. Here we have two main factors that influence the number: Ambient temperature and volume of water. When there's a lot of water, the river is cooler, which is why we've seen lower-than-average temps since early May. When there's less water, the sun has less work to do heating it up, which is why temps have gone up as the flood waters recede.
We're also watching the river temps because if they get over 85 degrees, it puts catfish, bass, and silvery minnows in the danger zone, according to Michael Porter, a fish biologist with the Army Corps of Engineers. He says that's a very unlikely scenario indeed, but we'll keep an eye on it anyway.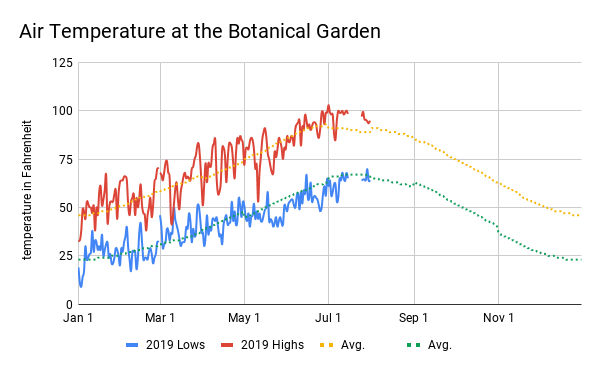 Though the Botanical Garden's weather station went offline for a few days this month (you can see the gap in the chart), it's safe to report that we had a reasonably normal July, with high temperatures a bit higher than normal and overnight lows a bit lower than average back in the first part of the month.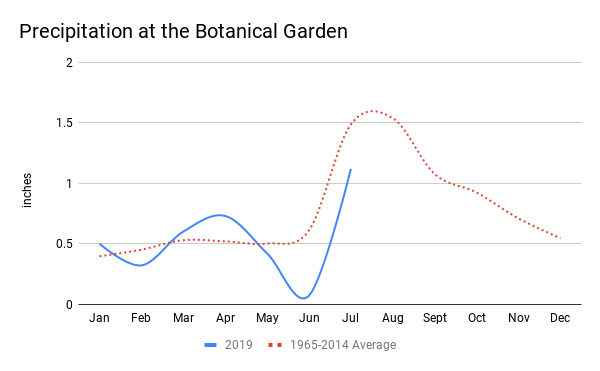 The Botanical Garden got 1.12 inches in July, which should be about right, even with the data gap we saw at the station. We cross checked it with the Sunport's data, and it didn't appear to miss any critical rain days. The Sunport, though, got way more rain anyway – 1.95 inches. Overall the Botanical Garden is at 3.76 inches for the year, below the cumulative average of 4.49 inches.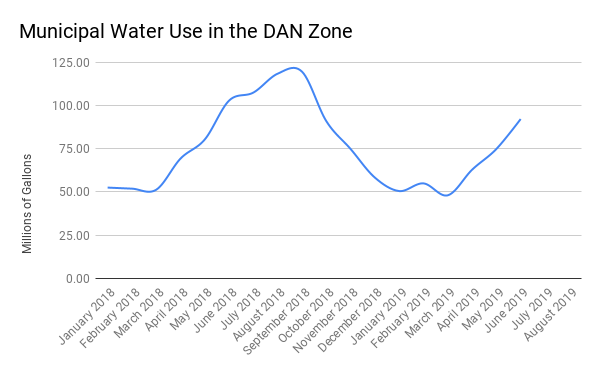 Here we must send a million thanks to public information guru David Morris and his merry band of tech geniuses at the Albuquerque Bernalillo County Water Utility Authority. They somehow figured out how to calculate how much water people in the DAN coverage zone (roughly I-40, the river, and the railroad tracks) consume every month, and we're really looking forward to following this number through its ups and downs.
Broadly speaking, what we see at work here are outdoor watering and temperature. In the depths of winter, we consume about 50 million gallons of water per month, but as things get warmer, we water our plants more and more, eventually topping out in the 125 million gallon range (swamp coolers using water are a factor here as well, but a small one). June was a good example of this: It was relatively cool by that month's standards, so we only used 92 million gallons, down 10 million gallons from the previous June. That's a savings of about 15 Olympic swimming pools.
We'll delve into other interesting angles in future months, including strategies for using less water.
Ground water levels are a much longer game, so we'll only run this chart a couple of times per year when new data comes in. But here's the Albuquerque ground water story summed up in a few sentences: First, we thought we were sitting on a massive underground lake and pumped all the groundwater we pleased. Then we realized the lake more closely resembled a puddle, so we started using river water through theSan Juan Chama diversion project, thus letting the groundwater recharge. This chart shows that recharge, courtesy of a monitoring site in Wells Park. Basically we've gained a little under 17 feet worth of water level since 2008 at that station, about halfway home to the peak historical level from 1962. (Water levels around town tend to vary and will be higher toward the river.)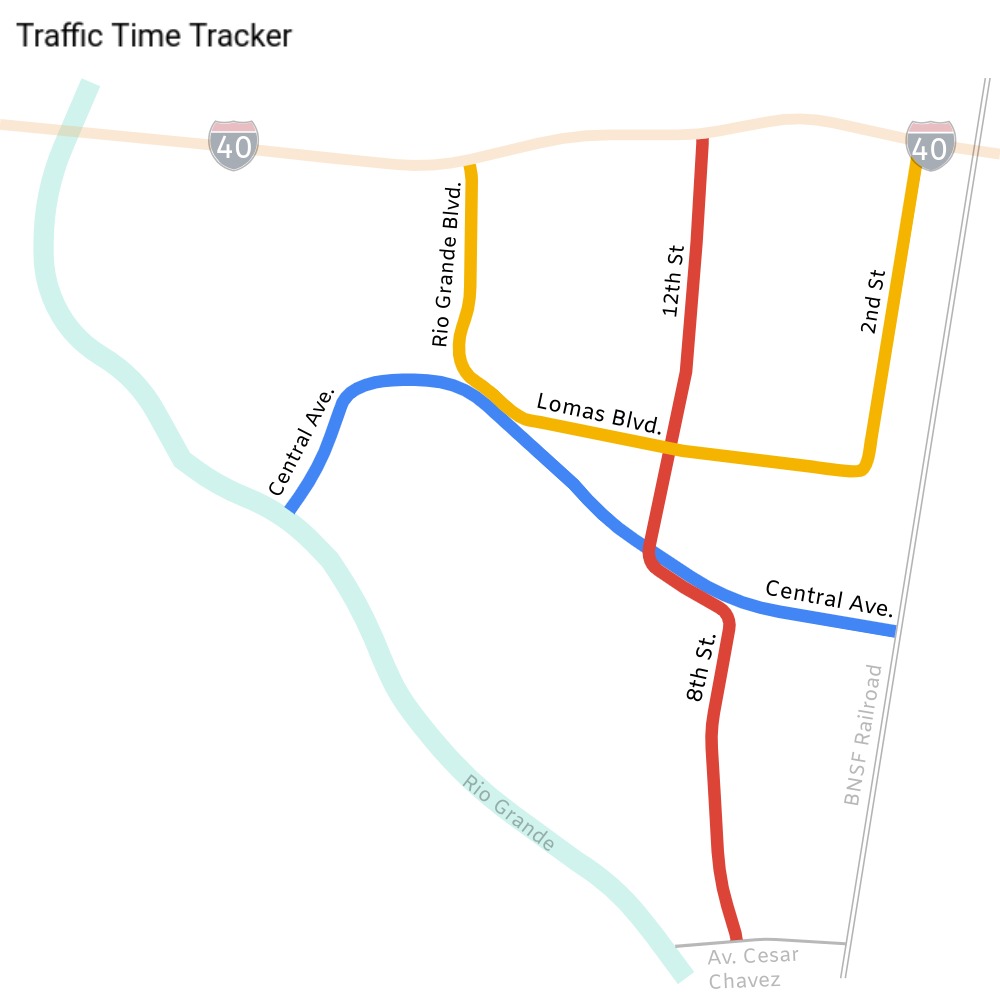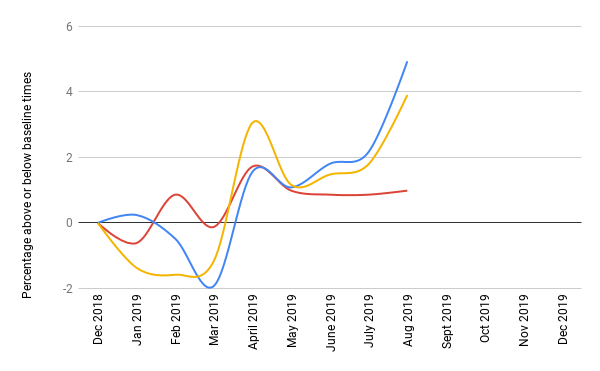 With Downtown and transportation technology changing so quickly we thought it would be good to start monitoring travel times in key Downtown corridors (see explanation of how we do it above). Between ridesharing, e-scooters, ART, more housing, and more economic activity, there's a lot going on that could influence travel times, so the goal is to keep tabs on it as best we can.
We think this number will be fun to watch, though it'll be pretty hard to make conclusions about what's driving it, and this month is no exception: According to the model, travel times in two of our corridors are about four percent longer than the baseline measured in December. Is this some summer peak time for tourists who jam up Rio Grande and Central in pursuit of Old Town or Route 66 fun? Are people just going slower because they're mesmerized by the ART buses in training? Maybe they're just more relaxed with thoughts of vacation and not in a hurry? We really have no idea. But here's what we're looking out for: Will it all calm down this fall? And what will happen as more businesses and transportation options move Downtown? We're about to find out.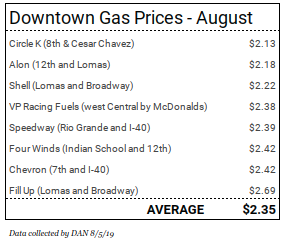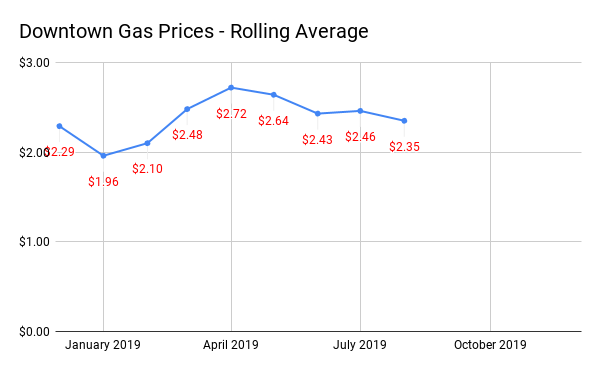 Gas prices dropped slightly in our monthly survey, down from the April peak of $2.72. The price winner this month was the Circle K on 8th and Cesar Chavez, a station that is generally on the cheaper end of the survey. In future months, we'll dig a little deeper into the data to try and establish more patterns. We'll also talk about what at an international level is influencing prices. AAA spokesman Daniel Armbruster told DAN that at the moment, the main driver of prices is reduced consumer demand when compared with this time last year. But we'll see if that lasts…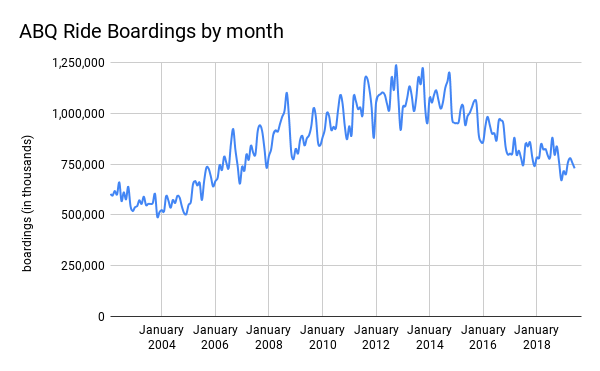 Normally we won't take such a long view on this chart, but we thought it would be interesting to show it by way of introduction. What's going on here? Gas prices, mostly. When gas prices go up, people take the bus, and vice versa. So when gas got expensive in the late 2000s, it kicked off something of a golden age for ABQ Ride that lasted until about 2014, when gas went down again. 2014 is also when Uber and Lyft debuted in Albuquerque, which may have contributed to the more recent decline, though it's hard to say whether you'd notice a difference on the chart if we were able to factor that in. E-scooters and rental bikes might also be a small factor, but until gas prices go back up or ABQ Ride does some research on the matter, we probably won't know for sure.
Next month we'll zoom in on just the past few years and see what else we can learn.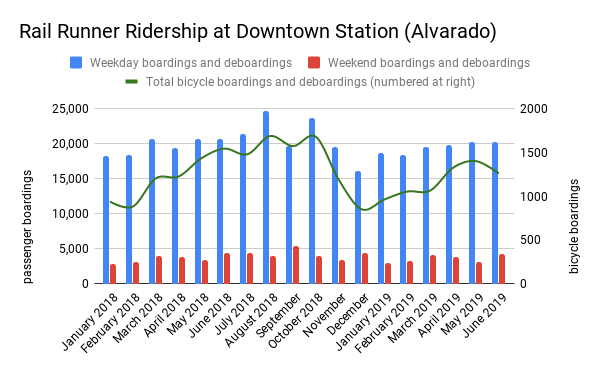 Downtown Rail Runner Downtown boardings and deboardings have held pretty steady for several months following a dip over the winter. Like ABQ Ride numbers, Rail Runner stats often track gas prices – possibly even more precisely given the distances and thus quantities of gas involved. The June numbers are only slightly below where they were the previous June, though the numbers of bicyclists dropped off more noticeably.
We only get Amtrak passenger stats for the Albuquerque Station once a year, but on-time performance – or lack thereof – of Downtown's Amtrak route (the LA-Chicago Southwest Chief) is tracked daily.
The long-term story here is that in any given month, you have a 10-15 percent chance of a longer-than-two-hour delay, but a better than even chance of a less-than-30-minute delay. Your on-time departure odds are better when going to Chicago, if only because we're closer to Los Angeles and there's less opportunity for a problem.
In July, that contrast played out in dramatic fashion: The train to Chicago was a little bit worse than the three-year average, but still in the ballpark of normality. The train to LA, however, was a disaster. One train was nearly 16 hours late, but others were off by 12, 10, 9, and 7 hours. This was unusual enough for us to call BNSF Railway spokesman Joe Sloan and see what was up. He reported that flooding in the midwest has knocked out several major sections of track this summer, which can gum things up by either forcing long detours or dramatically increasing traffic on the sections of track that weren't flooded. Subsequent repair work on flooded tracks has the same effect.
Amtrak spokesman Marc Magliari added this: "BNSF has been carrying out improvement work to the route east of ABQ that has been funded by Amtrak and BNSF, with state and local governments and major federal grants. These delays are temporary while work is being done and will result in improved reliability when finished."
Next Wednesday: The DAN Hospitality and Entertainment Index looks at the numbers behind Downtown's museums, entertainment hubs, and the places people crash for the night when visiting. See you then!
---
THANKS! We're glad you enjoyed that article, but Downtown Albuquerque News is only free and online through August 16. After that, it will be delivered only to subscribers (by email on weekdays). Since you got all the way to the end, we're guessing that you're the kind of person who cares deeply about Downtown neighborhoods and demands news coverage that's more detailed and more local than you thought possible. If that's true, sign up today and don't miss a word of DAN.