Between a hotly-contested City Council race and bond initiatives to build an emergency homeless shelter and continue renovations at the Rail Yards, there's a lot at stake for Downtown in the upcoming election. In the last few weeks, DAN subscribers have been reading in-depth profiles of candidates, a detailed assessment of how the shelter proposal is different from what we already have, and a Q & A history of the Rail Yards that puts this election in context. Below, we offer a kind of free sample: the cliff notes and full audio from a recent City Council candidate forum.
Nobody is covering this election with the detail and Downtown focus of DAN. Subscribe today and don't miss another word.
---
Voting information
Vote in person: Starting October 8, go to the Clerk's Annex building at 1500 Lomas Blvd. NW. (M-F, 8 a.m.-5 p.m., but with expanded hours starting on October 19.)
Vote by mail: Request your vote-at-home absentee ballot from the Secretary of State here. For those who had previously requested a vote-at-home ballot, it will be mailed today.
Look up your sample ballot: here.
---
D2 candidate forum cliff notes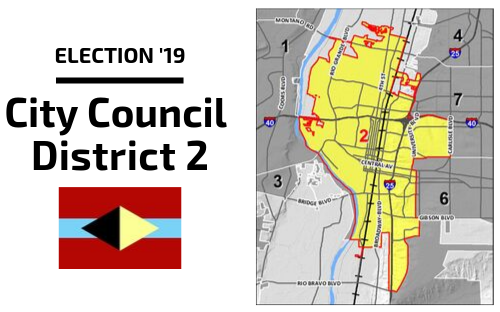 Four neighborhood associations in the DAN Coverage Zone (West Old Town, West Park, Huning Castle, and Raynolds) teamed up to host a City Council candidate forum at Washington Middle School on Thursday, October 3. Each neighborhood submitted three questions, for a total of 12, and time allowed for asking all but one of them. Huning Castle resident Rudy Carcia moderated. 
For full audio, click here.
For a summary "cliff notes" version of the Q & A, read on:
How would you work with the city planning department to make sure the Integrated Development Ordinance (IDO) zoning conversions are in the best interest of neighborhoods?
ROBERT BLANQUERA NELSON: I was one of the activists that opposed the IDO. I organized with the Historic Neighborhood Alliance because we felt community input was not sufficient. Of 2,400 hearing participants there were 700 duplicate participants, and 85 percent were white/non Hispanic, which is not the kind of representation we need. We need to take it back to the community level, talk to community members about what your community needs, and plan coherently from the bottom up.
ZACK QUINTERO: It starts with our community, block by block. How many people knew about the IDO hearings well in advance? It is incumbent on us to show that government can be user friendly. We need to offer better notice, especially for bilingual speakers and not just on some random web page. We need to have canvassing in advance and information available on our phones.
ISAAC BENTON: The IDO is a living document and is built to be updated annually. Ultimately, land use policy and zoning is the responsibility of the City Council. If there's something going wrong, I want to know about it. We're working on our first update and every year you'll have the opportunity to think about whether your zoning is appropriate or not and apply to change it. There's a built-in process for continuous improvement, unlike our old 1959 zoning code, which was really hard to understand.
CONNIE VIGIL: I attended the comprehensive plan meetings. They gave us paper and sticky notes and that's how we participated. Brennon Williams is our city planner and when I get into office I'm going to talk to him. The IDO is written by attorneys, it's hard to read, but when you go to other cities you see simply-written comprehensive plans. The other part is we have neighborhood plans that are completely ignored. I'd like to take a real hard look at that. We need a simple process of public involvement.
STEVEN BACA: We really need to listen to the neighborhoods. There's some good things and bad things in the IDO and when it comes to changes we have to listen to the community. If elected I would post details on my social media accounts to make sure citizens are actively engaged. The second thing we need to do is simplify it. It's ridiculously long. It needs to be made simpler and easier to read so people don't get confused.
If elected, how would you improve communications with neighborhood associations?
QUINTERO: Our campaign is running on Government 2.0 – breakthrough ideas. One of our ideas is to have election day be a city-wide holiday. Those kinds of ideas mean inclusivity and a good way to do direct outreach. We need to do more canvasses through the Office of Neighborhood Coordination. This must be a dedicated priority. We also need to overhaul our digital infrastructure – it takes too long to get the information we need, and it's hard to see where things are in the process.
BENTON: Our neighborhood recognition system is very robust and gives extraordinary power to the neighborhoods to challenge land use decisions and appeals. I'm the sponsor of the current effort to go out with a team – interviewing in every neighborhood – seeing what their concerns are. I was the sponsor of that effort and we'll do an update to that ordinance. Neighborhoods are the first line of democracy in our city. The ones that work hard and build themselves up are the ones that get things done.
VIGIL: In our district I think we have over 50 neighborhood associations and they don't work right now. The businesses are not notified, and I want to see that we do more with the neighborhood associations. I'd like to see more coalitions with groups of neighborhoods. I'd like to see those meetings come together as more unification in those areas. I feel like there isn't enough notification. I'm on the Wells Park board, but sometimes I feel like I don't even know what's going on because there are only two points of contact between the city and the association.
BACA: The first thing the city should be doing is send notifications to neighborhood association social media accounts so people can see them. Also the city should be using free social media accounts to post those meetings. BCSO does a good job using notifications on Nextdoor. I think the city needs to follow that lead.
NELSON: We need to take a more systematic look at what this means for our city, even for those who aren't part of neighborhood associations. We need to build more capacity at the Office of Neighborhood Coordination. They only send out one email every Monday, and that's not engagement. We need to canvas even when we don't want your vote. We need to go beyond social media, building the capacity of our community centers so that they stay open longer, allowing us to be proactive with our communities.
How would you further development and vitality in West Downtown?
BENTON: Vitality in West Downtown very much depends on getting control of traffic on Central. You may remember the bad old days of a five-lane roadway – an extremely aggressive situation, especially between Downtown and Rio Grande, and not business friendly. I sponsored the bill to test a three-lane section in that area and instituted the bike lanes and traffic lanes that have slowed down traffic. We changed the design of that corridor and now we need to continue the type of development that has occured.
VIGIL: I recently attended the West Downtown association meeting and visited businesses around there – made personal contact with everybody. The major concern is this stupid ART project. When I went there I was pulled over and given a postcard [about staying out of the ART lane]. No more tickets! We have got to make Central Avenue accessible for these businesses. We need to make a crosswalk because it's very dangerous crossing that road.
BACA: First thing that needs to be addressed is on Central and San Pasquale. Cars turning into the barber shop by mistake is an issue that needs to be fixed. The next issue would be lowering the gross receipts tax.
NELSON: When we're talking about West Downtown we need to start with our community and business owners and how to include them so that we can be successful – so they can have meaningful jobs, good wages, and be able to go beyond surviving to thriving. That means utilizing my experience with community development corporations. Those kinds of organizations are there for you when you want to make that possible.
QUINTERO: Revitalization is the key word here, and this is where I feel my expertise in economic development would help. People are not using the roads as they are designed. And bike lanes are important but meanwhile bikes are being stolen. I want to make sure we have a comprehensive plan with the neighborhood, and we also need to take public safety seriously. We need leadership on that specific issue, community policing, and direct recruitment from the neighborhoods.
What plans does the city have – or what would you pursue if elected – to address the congestion along Bellamah near Hotel Chaco once this area is built out?
VIGIL: That's a tough one because [Heritage Hotels owner] Jim Long is creating that nice shopping center right there. I honestly don't think that's a major issue. We have pretty good access off of Mountain. I honestly don't think there's a problem. I would say that Rio Grande is a mess because we don't have a bus that goes past Griegos. But as far as access I wouldn't have a major concern back there – but I would like to see a bus going down Mountain Road.
BACA: Right now it's not too bad but the biggest thing we need to do is take care of the Rio Grande issue. Rio Grande is a complete disaster. It's hard because it goes through I-40 and we need to work with the state to get flyover ramps or something to alleviate the congestion. The primary problem is people trying to get on the highway, which causes people to take shortcuts through the neighborhood.
NELSON: I work right over there on Rio Grande and I-40. I also live on 12th, so we've seen a lot of traffic increases. But when we talk about a plan, it needs to come back to all of you and how you can shape what traffic calming measures look like. We also need to move away from the car in general, given climate change, and we need to work with our communities to get past that and get more walkable and bikeable cities.
QUINTERO: Once the Sawmill Market gets humming we are going to get a big increase in the traffic flow. First I'd like to see a reinvestment in speed traps and we need to make sure we have enough officers to do that. Maybe even speed cameras. I'm worried about the residents along this corridor, and whether traffic will allow them to exit their own driveways.
BENTON: We actually do have a plan for Rio Grande that's been adopted by the City Council. Bellamah is also part of that plan and we're going to the legislature to get funding for it. The plan is for Bellamah to eventually connect to 12 Street. But certainly with vitality and commerce comes traffic. We may need another signal along that corridor to address it.
What would your approach be to improving the situation of widespread homelessness?
BACA: First we need to address drug addiction and mental illness. We also need to look at it from a criminal justice standpoint and enforce low-level crimes to get people into the drug courts system so they can start a new life drug free. Going forward we need to advocate at the state legislature to focus on mental health rather than punishment and recovery. Drug courts should also be involved with mental health.
NELSON: We need to deal with homelessness as a public health issue. That's why I'm proposing a public health department. I'm also the only candidate with experience directly addressing homelessness – I helped found Albuquerque Heading Home. We need to get people into housing more quickly, surround them with wrap-around services that get them through the process more quickly, then prevent people from falling into the system in the first place. That's what I mean by stabilizing our communities.
QUINTERO: I actually did work directly on community development block grants while working in economic development for the City of Santa Fe. I did advocacy in the colonias of southern New Mexico. I know what it's like to have family that's struggling. We can't criminalize homelessness, behavioral health, or addiction. I want to make sure we have a mobile healthcare unit response team separate from firefighters and police. We need to make this a humanitarian issue.
BENTON: First, we have to build more affordable housing. The Workforce Housing Trust Fund I created with [former city councilor and current county commissioner] Debbie O'Malley has created 1,200 units and under Mayor Keller we're doubling that rate. Second, we need a centralized triage facility – and emergency overnight shelter – like what's going to be on the ballot in November. You can come in and be housed, be assessed, we can find out what your needs are and get help from partner organizations already working on homelessness.
VIGIL: I consider myself an expert on this because I've made it the focus of my life for six years. I've met with many people on this because drug addiction and crime and homelessness is in our neighborhood big time. Some of the nonprofits are not accountable and they have put businesses out of business. This campus [holding up artists rendering of a homeless service center proposed by the Greater Albuquerque Business Alliance] is going to be built in Albuquerque. If you want to know more I was interviewed by Gene Grant [last week] on New Mexico PBS.
Crime and safety are the most important issues. What four solutions would you implement to make a difference?
NELSON: We hear this a lot while knocking on doors. For us that's the reason why we're proposing a public health department. Crime is a public health issue. We need to look at the root causes, look at what a criminal is before they commit a crime. We need to start to dig and unpack these things and talk about the real long-term solutions. We need to have a conversation about why crime is happening in our city, a blue ribbon commission to analyze the situation and come up with solutions with you. And we need to make sure our leaders walk through our neighborhoods.
QUINTERO: My house was broken into recently and since then I've been trying to get that sense of normalcy back. But I never got that sense of security back and it kind of haunts me. We need a residential burglary unit. We need to increase the amount of bike patrols. Instead we cut public safety and shifted that money to things like ART.
BENTON: Funding for ART wasn't available to use for police. But what we have to do with crime is community policing. We've all got to step up, rebuild the force – as we are doing with better pay provided by the council. I've been a long-time supporter of bike patrols. I also want to talk about gun violence. We have to got to get that under control. I recently passed a red flag ordinance and am working to keep guns out of city facilities.
VIGIL: The police union endorsed Zack – they didn't even speak to me. But the head of that union has said that 99 percent of the crime is drug related. Do you know we have less than ten narcotics officers for this city? We need to take these drug dealers to task. The McClendon settlement needs to go away and we need to figure that out. It's not about community policing. And we have yet to see the bike officers in Wells Park.
BACA: First thing we need to do is get rid of the McClendon settlement. Once we start enforcing those lower-level and public order crimes everything will kind of settle out. Second, we need to either hurry up and comply with the Department of Justice settlement agreement or go to court and get out of it. We also need to get more officers on burglary and homicide. Getting out of the DOJ agreement will help free up officers for that. We also need to emphasize community policing. The solution is not gun control. That doesn't work and I advise people not to comply if those laws are passed.
BENTON REBUTTAL: On gun violence it's certain that extreme risk protection orders could have prevented crimes, even against our own police, as in the killing of the officers by John Hyde. The warning signs are out there. This is one of the top methods we need when someone has a gun and a disorder.
What are your plans for extending the Alameda Trail path from I-40 south to the BioPark or Tingley beach?
QUINTERO: I hear about this a lot, but turning to community policing: We've got to be able to have safe trails, bike patrols, and point persons in environmental health that do sweeps through the trail system. This needs to be both eco based and public safety based.
BENTON: The Alameda Trail project is currently underway with the city, the county, and the Middle Rio Grande Conservancy District. That is a great project, but it does only go as far as I-40. Part of the problem is that somebody approved a development that gated off a section of it. We should still try to do it because it would be terrific but that's a big obstacle.
VIGIL: As I understand it it's well underway and seems to be working. But it doesn't feel that safe when you go in the backwoods. That wouldn't be my favorite place. When you look at 4th Street there is a nice bike trail. I'm all about safety and they get kind of creepy when they're dark.
BACA: The plan we need first is to make sure it's safe. I ride my bike and walk back there, and it can get shady. I'm not too worried about it because I conceal carry and have an aggressive dog. But for others we need to crack down on those low-level crimes. But we just have to make the trail nice and communicate with the neighborhood.
NELSON: When we're talking about plans like this we need to come to you as a community to make this happen. My job is to make sure your voice is heard. We need to make sure it's accessible to everyone and safe. I pick up needles in Coronado Park every Sunday morning and it never goes away. Safety and accessibility must be big priorities.
How will you support the Central Avenue bike cop initiative?
BENTON: I'll support it because I sponsored it. The other bike cops are on their way. It's a matter of hiring. It typically is a long process but they're getting the officers there. We're going to have West Downtown officers in place very shortly.
VIGIL: I'd quit the rhetoric and make sure this gets done. We were promised two bicycle cops months ago. The Downtown businesses are not getting the support they need. Ths businesses don't feel safe. I think bike cops are ideal if we all have their cell phone numbers so that if you're getting robbed or stabbed you can call them.
BENTON REBUTTAL: At the meeting this morning they said they're hiring new people and they're not in place yet. But I did specifically ask about that. I also asked about the two officers in Wells Park and they're being hired.
BACA: I'd support it and go forward with supporting it. The presence of officers is very important and bike cops are especially good at that. The bike gives them an opportunity to talk to business owners and residents. I would also like to see additional officers.
NELSON: I would make sure our police force has adequate resources to do their jobs. In 2017, New Mexico received $90 billion in federal grants. The next state – Arkansas – got four times as much. That's more than the oil and gas money. We have to make sure we're competing for that funding. We need to make sure there are case managers that are going out with those police officers as well.
QUINTERO: The Boiler Monkey recently closed. I've canvassed the entire surrounding area and people feel like they need the Bernalillo County Sheriff's Office or state police because there's not enough of a presence down there. Think about why it got that bad. Where was that priority years ago? We need to make sure it doesn't take a new administration to create a new Downtown corridor. The problem was clear, but we chose not to act.
How would you put a stop to the reckless driving and noisy racing on Central and in our neighborhoods?
VIGIL: That's a tough question and I don't know the answer. I live on 2nd and people race all the time. You can put in all the roundabouts you want but in the areas where they aren't people are speeding. On major corridors I would lower the speed limit. That's the only way to do it. The roads are wide and they're meant to be access roads. And also we should get a few policemen out there giving tickets.
BACA: We just have to enforce the laws that are currently there and that requires getting rid of the McClendon settlement. BCSO arrests all the time for reckless driving but not APD because of McClendon. We need to have officers do old-fashioned speed traps, patrols, ticketing, enforcing the laws that are currently on the books.
NELSON: Last Sunday near my house there was a big t-bone accident. We need to go way beyond enforcement. We have to talk about how we can move away from the car, especially given climate change. We must write policies that decrease emissions and address the automobile here in our city.
QUINTERO: This is a legal question and I'm happy about that because I'm a nerd. I spend a lot of time in San Jose and South Broadway. These are communities that are woken up randomly by trains with blaring horns or fumes. When we talk about having strong noise enforcement and funding smart tech, we need somebody with that experience. I'd be able to get that done.
BENTON: The only way we can stop this kind of racing and exhibition driving is by strategic use of technology. Officers are not going to outrace the racers – it's too dangerous for everyone. We need to start using police service aids with high capacity cameras (they're very affordable these days) to start documenting these offenders. We've got to start documenting who they are because they're destroying our quality of life and they're dangerous.
How would you improve economic opportunity for all residents of Albuquerque?
BACA: First we need to make the business climate friendlier. I want to make the process of starting a business more streamlined and efficient. I also believe we should do fee-free business licenses. If we continue to help people become entrepreneurial that will help pull people out of poverty and create jobs. We also need to lower the gross receipts tax.
NELSON: There's really no reason why Albuquerque can't be the number one city for small business development. But we have to create the kind of infrastructure that invests in small businesses so they can have access to they capital they need to survive and thrive. It's hard to start a small business. I mentioned closing equality gaps earlier, and by doing that we can also create more economic output.
QUINTERO: First, we need a strong local spending rule to make sure government is buying local. Second, we need a 5,000 jobs strategy for tomorrow's workforce – the infrastructure that will keep talent here. We also need a Downtown arts accelerator.
BENTON: There are two parts of the economy that are most promising: creative/cultural and visitors/conventions. Outside of healthcare at least. We've got to build and protect our sense of place – that's the reason people want to come visit, and sometimes invest and live here. We're a leader in this. Forget Santa Fe. The real arts scene is in Albuquerque. We also need to keep working on the Rail Yards and CNM's film project within that.
VIGIL: To me small businesses are the heart of this city. But they aren't getting support right now. My cousin had to shut down his business because [The Rock at] Noonday moved in nextdoor. People are afraid to come Downtown. So the number one thing is address the crime, number two is homelessness. We've got to find better solutions. There are so many drug deals going on Downtown. Where are the narcotics agents?
What would be your plans to make Mountain from Rio Grande west to Montoya safe for pedestrians?
NELSON: Knowing that people still cruise at 50 mph down Mountain, we need to come back to the community and make sure plans are complete and make sure roads are safe. We have to be able to create the kind of streets that are healthier. We can't just talk about complete streets – we have to talk about healthy ones. What does it mean for somebody to have access to those roads and bike lanes?
QUINTERO: There's great leadership on that specific corridor, but there are parts we could improve, and one way is through smart tech controlling speed in that area. You see the vacant buildings in that area – we need to build that up. We have a proud identity there that we should get back to.
BENTON: Mountain west of Rio Grande is difficult. It was designated as a bike boulevard, but I don't think that's appropriate. As part of the complete streets plan we're hoping to do a safe crossing from the south plaza area to Hollywood, which is far superior as a connection.
VIGIL: The only thing I can think of is to make great crossings, maybe have a flashing light for bikes. I don't know if that area is marked, but when there's not much road space there's not much you can do. Maybe we should also look into light requirements for bikes.
BACA: First, that area is pretty dark so we need better street lighting there. We should also restripe the road to make clear designations of where bikes and cars go.
Note: Candiates made opening and closing statements, but we have omitted them here because of space constraints and because much of the biographical material was covered in our recent candidate profiles. To read those summaries, click here.