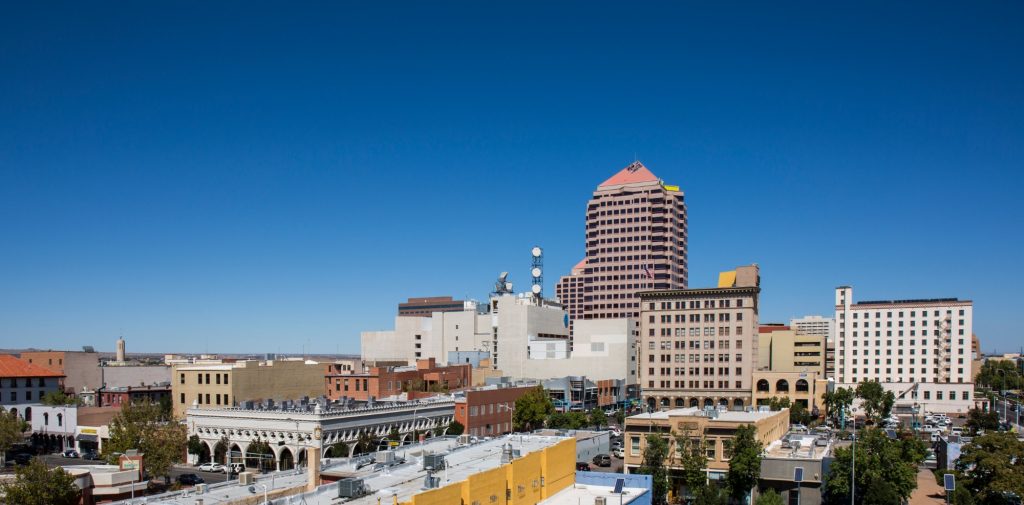 Welcome to Downtown Albuquerque News, a micronews platform serving the neighborhoods of Barelas, Raynolds Addition, Huning Castle, West Park, West Downtown, West Old Town, Old Town, Sawmill, Wells Park, Downtown Neighborhoods, and Silver Platinum.
Below you'll find an index of the stories we've published. Our first two weeks (August 5-16) are posted and available for free, but as of August 19, only subscribers get to read DAN, which is delivered by email every weekday. Make sure you're one of them and sign up for your free trial today!
---
Wednesday, August 21, 2019
The monthly DAN Social Index:
Neighborhood crime stats
Interesting books we found in Downtown mini libraries
Figures on meals served at soup kitchens, how many Downtown kids need a big brother or big sister, and more.
Want to read this edition? Get access with our two week free trial!
---
Tuesday, August 20, 2019
Your complete guide to the Central-Lomas rail trail
Diagrams, maps, and where the idea goes from here
ALSO: Details on UNM's renovation of the Antoine Predock property on 12th and Marquette
Want to read this edition? Get access with our two week free trial!
---
Monday, August 19, 2019
Hotel Blue plans call for coffee shop, food trucks, $1.1 million tax break
Is the financial aid absolutely necessary? We'll weigh the arguments and see who in the surrounding neighborhoods is making them.
Plus: El Vado's developer will break ground on next door Monterey Motel and adjacent apartments later this year. We have a map/guide.
Want to read this edition? Get access with our two week free trial!
---
SAMPLE ISSUES
---
Friday, August 16, 2019
Friday Roundup: Teach a WMS elective, the One Albuquerque Sign Woes, and remembering the publisher of El Hispano News.
---
Thursday, August 15, 2019
Homelessness Downtown: A DAN cheat sheet overview
A comprehensive overview of the problem
DAN's plans to dig even deeper
---
Wednesday, August 14, 2019
DAN's monthly Hospitality and Entertainment Index
Penguins drive massive zoo attendance spike
Bike In Coffee expands to Fridays – we have photos of what you can eat there.
Hotel rates rise with summer vacation season.
---
Tuesday, August 13, 2019
Dia de los Muertos parade may come to Barelas.
Monroe's Lomas location will close when 4th & Mountain opens.
Summer hours extension at BioPark is no more.
B of A selling abandoned Lomas & 6th branch.
The Facebook of 1865 at AM
What's the deal with the Polish section at Silver Street Market.
---
Monday, August 12, 2019
New Mexico United wants to move Downtown. There are three locations under consideration.
The city and team agree that neighborhood buy in is key, so what are people saying?
Plus: What do district two City Council candidates think?
---
Friday, August 8, 2019
Friday Roundup: Coverage of Downtown from other media, newsletters from local non-profits, and the week in Downtown social media.
Bonus: Photos from Tuesday's National Night Out.
---
Thursday, August 8, 2019
One of the bell towers at San Felipe de Neri is literally made of human bones.
Plus: A bunch of other things you didn't know about this Old Town icon.
---
Wednesday, August 7, 2019
The monthly DAN Climate and Transport Index: We track river flow, temperature and rainfall at the Botanical Garden, Downtown municipal water use, Downtown gas prices, transit ridership, and just how late those Amtrak trains are.
---
Tuesday, August 6, 2019
Why is the city removing bike lanes on 4th and 5th even as it installs them on Lead and Coal?
Anchor restaurant's CEO says he's here to stay
Take a peek inside the Arrow Supermarket building, now an antiques store
More sheriff's deputies Downtown
The status of the BioPark solar install
E-scooter prices rose recently
Iron Ave. house slated for demolition
---
Monday, August 5, 2019
This summer's river flooding was the most sustained this century – we have the numbers.
Why all that water is good for the bosque and bad for mosquito sufferers.
The city's timeline for cleaning things up.
Whether the crushed rock trail that resists floods so well will ever extend south toward Bridge.
---