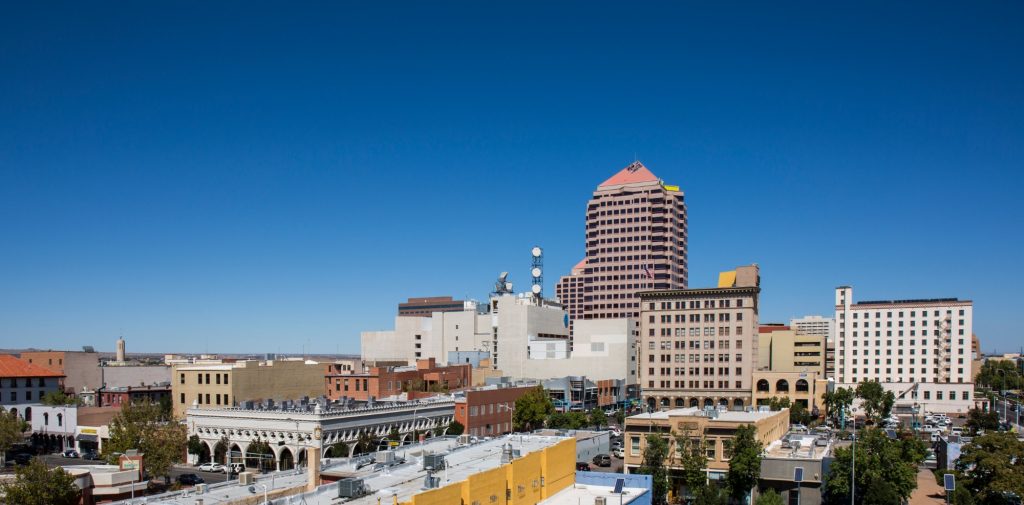 Welcome to Downtown Albuquerque News, a micronews platform serving the neighborhoods of Barelas, Raynolds Addition, Huning Castle, West Park, West Downtown, West Old Town, Old Town, Sawmill, Wells Park, Downtown Neighborhoods, and Silver Platinum.
Below you'll find an index of the stories we've published. For some example issues, click here. And if you like what you see, sign up for our free trial today! (You can also buy a single-copy back issue here.)
---
Tuesday, September 24, 2019
How much more police presence does the Downtown Public Safety District actually bring?

Plus: Why was it created, what are the borders, and after a year of work, what do we know about the results?
---
Monday, September 23, 2019
Ever wonder where all those e-scooter riders are headed? We mapped it out.
Plus: How are the rental bikes doing in this modern scooter era?
---
Friday, September 20, 2019
Friday Roundup: Between the president, NYT travel writers, and private train car owners, everyone is visiting Downtown.
---
Thursday, September 19, 2019
All access, good cardio, and a certain kind of fame: What it's like to be a letter carrier Downtown.
---
Wednesday, September 18, 2019
The monthly DAN Social Index: Crime stats, library visit numbers, promising books from mini libraries, and more.
---
Tuesday, September 17, 2019
How to hit green lights in the Downtown Safety Zone
Hotel construction and the convention center's booking problem
Major progress on ABQ Ride driver shortage
The latest City Council financial disclosure forms
A totally fun Downtown-themed video hub
CESSOS says hello to Raynolds
---
Monday, September 16, 2019
ART is gearing up fast.
New sculpture raises questions
Names for West Downtown that didn't quite make the cut.
Details on construction project at 9th and Tijeras
The new Raynolds coffee shop
The case of the 50-foot striping gap on lead
---
Friday, September 13, 2019
The Friday Roundup: Psychic Kids at Painted Lady, ¡Globalquerque! info, Sotomayor visits the Kimo, and more.
---
Thursday, September 12, 2019
The Huning Castle neighborhood is a wildly popular filming spot. It may get even busier.
---
Wednesday, September 11, 2019
Explora and the penguins keep attracting tons of visitors.
Plus, what's cooking at Urban Taqueria.
---
Tuesday, September 10, 2019
The city wants to build a Homeless Shelter 2.0
But for Downtown neighborhoods, it's a matter of location, location, location
---
Monday, September 9, 2019
Briefing: Construction on Rio Grande, a documentary about Wells Park, details on Barelas Park Renovation, and Lead/Coal speed limit signs
---
Friday, September 6, 2019
Possible BioPark price increase, desert nomads in Wells Park, and B. Ruppe's opens Oct. 1: It's the Friday Roundup
---
Thursday, September 5, 2019
Our insane mosquito year, illustrated.
Plus: How spraying and not spraying works.
---
Wednesday, September 4, 2019
Travel times are up, the river is down, and August was the 13th driest on record: Its the DAN Climate and Transport Index.
---
Tuesday, September 3, 2019
The future of the Rail Yard's comes into focus.
If you haven't been paying attention to this story for the last 140 years, you'll want to read our overview Q & A guide.
---
Friday, August 30, 2019
Friday Roundup: Junk and Jog in the bosque, La Esquinita food hall in Barelas revs up, and can classical music improve the underpass at Central and the tracks?
---
Thursday, August 29, 2019
How to watch the Sunday night lowriders: A Q & A guide.
---
Wednesday, August 28, 2019
The monthly DAN Real Estate Index:
Median sale prices Downtown, rental data, a quick tour of The Franz, and vacant storefronts on Central in the Downtown core.
---
Tuesday, August 27, 2019
A tiny Downtown carsharing program is going away, but advocates think the larger idea would have a bright future if given a chance.
Plus: We rummage around City Council campaign spending disclosure forms to see what there is to learn.
---
Monday, August 26, 2019
Food trucks, a wine bar, and a distillery: Two Old Town Developers are pushing for a younger, more local vibe on a key corner.
---
Friday, August 23, 2019
Friday Roundup: New zoo animals, the Telephone Museum, letters to the editor, APD wants you to call them, Homelessness survey numbers, the Riordan mural, and more.
---
Thursday, August 22, 2019
E-scooter riders are at least as bad as drivers and bicyclists, but are they actually worse?
Plus: How to report problematic riders without calling the cops, and the DAN audit of scooter parking jobs.
---
Wednesday, August 21, 2019
The monthly DAN Social Index:
Neighborhood crime stats
Interesting books we found in Downtown mini libraries
Figures on meals served at soup kitchens, how many Downtown kids need a big brother or big sister, and more.
---
Tuesday, August 20, 2019
Your complete guide to the Central-Lomas rail trail
Diagrams, maps, and where the idea goes from here
ALSO: Details on UNM's renovation of the Antoine Predock property on 12th and Marquette
---
Monday, August 19, 2019
Hotel Blue plans call for coffee shop, food trucks, $1.1 million tax break
Is the financial aid absolutely necessary? We'll weigh the arguments and see who in the surrounding neighborhoods is making them.
Plus: El Vado's developer will break ground on next door Monterey Motel and adjacent apartments later this year. We have a map/guide.
---
Friday, August 16, 2019
Friday Roundup: Teach a WMS elective, the One Albuquerque Sign Woes, and remembering the publisher of El Hispano News.
---
Thursday, August 15, 2019
Homelessness Downtown: A DAN cheat sheet overview
A comprehensive overview of the problem
DAN's plans to dig even deeper
---
Wednesday, August 14, 2019
DAN's monthly Hospitality and Entertainment Index
Penguins drive massive zoo attendance spike
Bike In Coffee expands to Fridays – we have photos of what you can eat there.
Hotel rates rise with summer vacation season.
---
Tuesday, August 13, 2019
Monroe's Lomas location will close when 4th & Mountain opens.

Summer hours extension at BioPark is no more.
B of A selling abandoned Lomas & 6th branch.
The Facebook of 1865 at AM
What's the deal with the Polish section at Silver Street Market.
---
Monday, August 12, 2019
New Mexico United wants to move Downtown. There are three locations under consideration.
The city and team agree that neighborhood buy in is key, so what are people saying?
Plus: What do district two City Council candidates think?
---
Friday, August 8, 2019
Friday Roundup: Coverage of Downtown from other media, newsletters from local non-profits, and the week in Downtown social media.
Bonus: Photos from Tuesday's National Night Out.
---
Thursday, August 8, 2019
One of the bell towers at San Felipe de Neri is literally made of human bones.
Plus: A bunch of other things you didn't know about this Old Town icon.
---
Wednesday, August 7, 2019
The monthly DAN Climate and Transport Index: We track river flow, temperature and rainfall at the Botanical Garden, Downtown municipal water use, Downtown gas prices, transit ridership, and just how late those Amtrak trains are.
---
Tuesday, August 6, 2019
Why is the city removing bike lanes on 4th and 5th even as it installs them on Lead and Coal?
Anchor restaurant's CEO says he's here to stay
Take a peek inside the Arrow Supermarket building, now an antiques store
More sheriff's deputies Downtown
The status of the BioPark solar install
E-scooter prices rose recently
Iron Ave. house slated for demolition
---
Monday, August 5, 2019
This summer's river flooding was the most sustained this century – we have the numbers.
Why all that water is good for the bosque and bad for mosquito sufferers.
The city's timeline for cleaning things up.
Whether the crushed rock trail that resists floods so well will ever extend south toward Bridge.
---