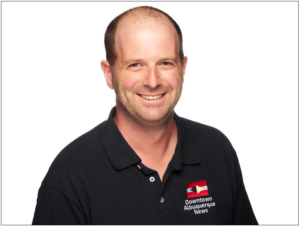 Peter Rice / Editor
Peter Rice started out young in journalism. As a teenager growing up in Washington State, he worked in community radio and later for a consortium of NPR stations. While attending Colorado College, he wrote features for the Colorado Springs Gazette and the Denver Business Journal. He later worked as a general assignment reporter for the Curry Coastal Pilot on the southern Oregon coast, on the city hall beat for the Albuquerque Tribune, and as an announcer/news writer for KUNM.
Having noticed the grim direction the journalism industry was heading, he retreated for several years from the business and put in stints as an electrician, video producer, and public relations jack-of-all-trades. He probably should have been content with this, but the siren call of reporting proved too strong in the end – hence, DAN.
Rice, an avid cyclist and incurable nerd, is the author of several books, including Spandex Optional Bicycle Touring, Curry Made Easy, and Liberal for Conservative Reasons. He also consulted on Anna, Age Eight and 100% Community, books by Dominic Cappello and Dr. Katherine Ortega Courtney about childhood well-being. He has lived in Barelas since 2012.
---
Lindsay Wood / Copy Editor
Lindsay Wood grew up in Albuquerque's North Valley and graduated from Arizona State University, where she studied conservation biology. She has lived in Barelas since 2016 and by day works as a project manager.
---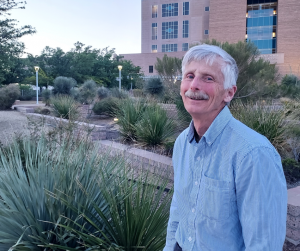 David Lee / Reporter
Before a long career that included stints in local government and bicycle mechanics, David Lee reported for the Salem Statesman Journal (Oregon), the Valley Sun (Wasilla, Alaska), and the Washington Bureau of Newhouse News Service. He primarily covers features for DAN.
---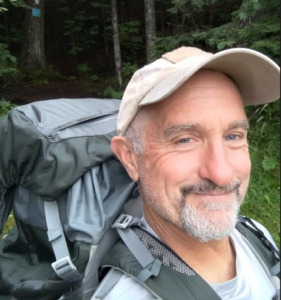 Joe Beman / Inspector DAN
Drawing on a 30-year career of fastidious data collection for the U.S. Geological Survey – about half of which involved monitoring groundwater in the Middle Rio Grande Basin – Joe Beman is in charge of reviewing public services and facilities with the same white-glove treatment normally reserved for restaurants – all for our regular "Inspector DAN" feature. When not out in the field, he can be found volunteering, wandering around the wilderness for days on end, or indulging his obsession with doing pull-ups.