Every spring and fall, Downtown Albuquerque News publishes a series of four walking tours based on recent news stories. Below is one from our spring 2021 collection (a link to the interactive version of the map is here). We begin at Point One, Sidetrack Brewing: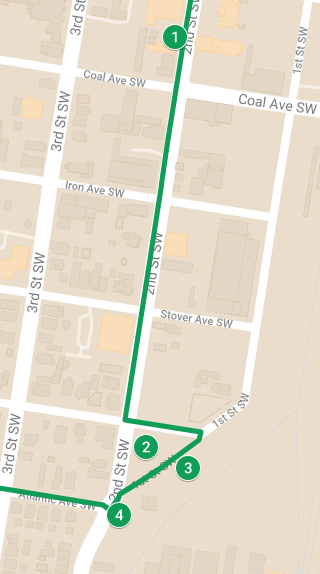 (1.) Sidetrack Brewing was recently featured on the What's Up ABQ? podcast.
(2.) A much-litigated triangle of land that the city is attempting to seize in order to install a roundabout. (DAN, 11/2/20)
(3.) The Pattern House at the Rail Yards is the future home of Spirit Station, which will feature immersive art and distilled spirits. (DAN, 3/16/21, midway through)
(4.) New landscaping to spruce up the Rail Yards is slated for the east side of 2nd during the summer of 2021. (DAN, 1/11/21, toward the end)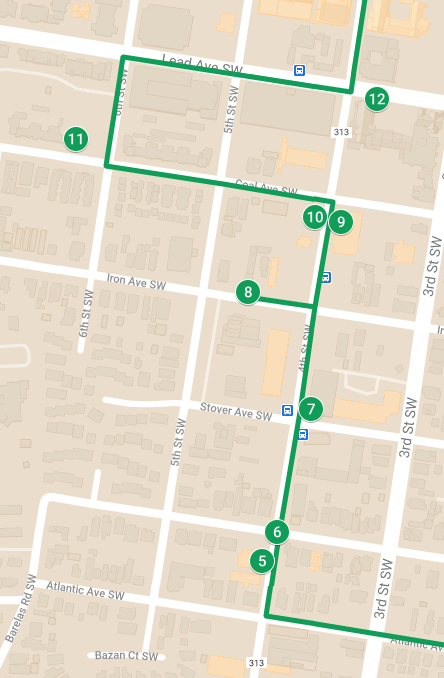 (5.) The Secret Gallery, which opened recently. (DAN, 2/24/21)
(6.) 4th and Hazeldine, future home to an on-street mural. (DAN, 3/4/21)
(7.) Sacred Heart Catholic Church, which 100 years ago was witness to an arranged marriage that made the Journal.
(8.) The former home of Octaviano Larrazolo, the first Hispanic US Senator. (DAN, 3/18/21)
(9.) Por Vida Tattoo, featured in March in DAN.
(10.) Novel Point, a new coffee shop (web).
(11.) An old Victorian house that the county is trying – so far without success – to demolish. (DAN, 2/9/21, midway through)
(12.) A hitching post from the early railroad days of Downtown (photo here, photo of accompanying plaque here).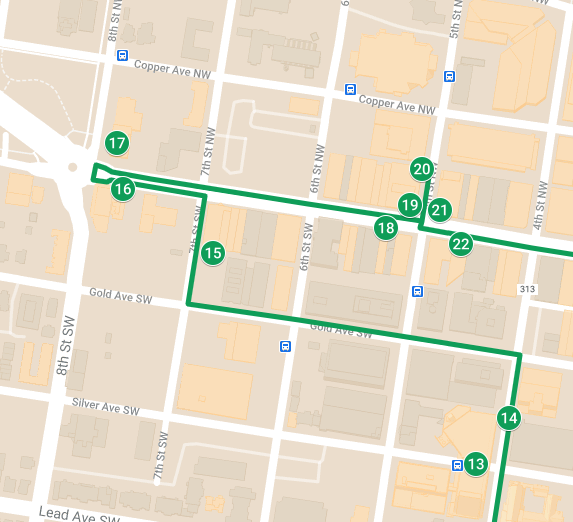 (13.) Alvarado Square, Bernalillo County's forthcoming new digs.
(14.) A recently-removed pedestrian bridge. Check out before-and-after photos here.
(15.) The epic Church of Music mural, for which we compiled the definitive guide. (DAN, 3/1/21, midway through)
(16.) The NEDA building, a future destination for gourmet toast. (DAN, 2/24/21)
(17.) The Hotel Blue, which is slated to begin its much-delayed renovation this year.
(18.) The future home of Flamenco Works, a Barelas studio. (DAN, 3/16/21)
(19.) The 505 Food Hall, which opened last fall.
(20.) The Sticker Wall, a community/art project begun a few weeks ago (photo).
(21.) The KiMo Theater, which installed protective shutters over its windows last year (photos).
(22.) The Kress Building, a future arts hub. (DAN, 2/24/21)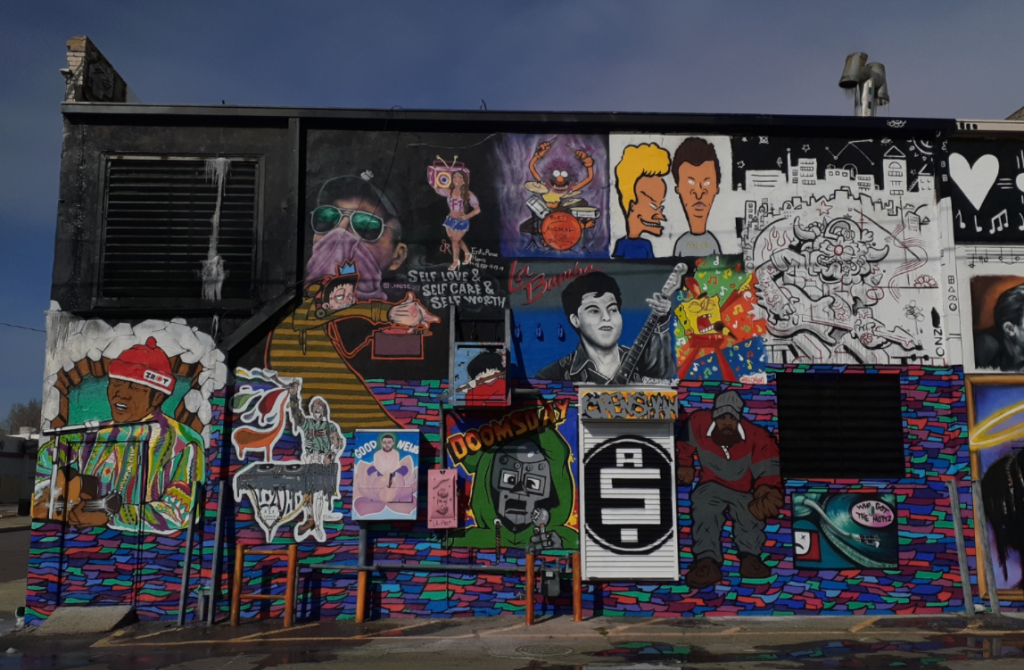 Just one part of the Church of Music mural (Point 15).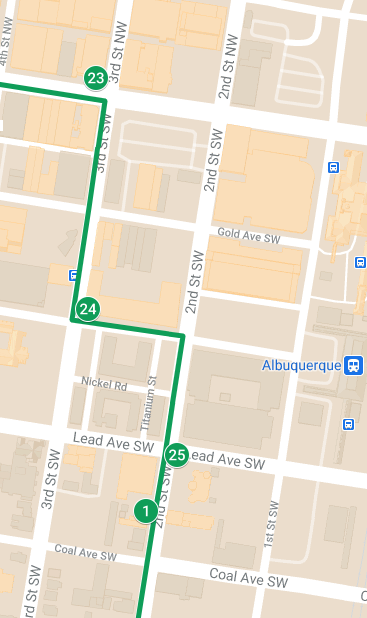 (23.) True Love Tattoo, which moved in earlier this year (Facebook).
(24.) Holmes Pizza and Arcade, which opened in December (web).
(25.) New bollards discouraging wrong-way traffic over the Lead overpass (photo)
Want up-to-the-minute local news delivered to your email every weekday? Subscribe to Downtown Albuquerque News here.