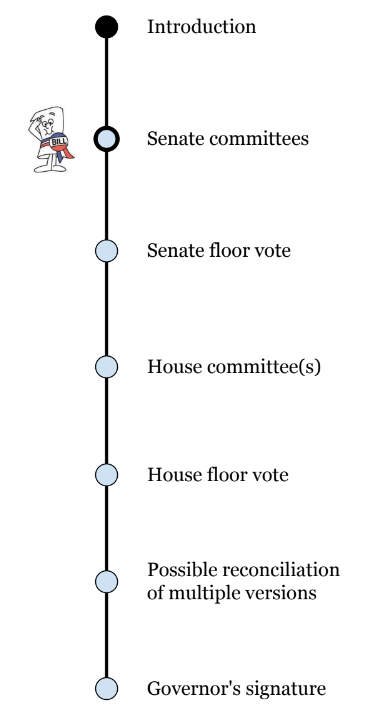 February 22, 2023
SANTA FE — A senate panel unanimously signed off on a bill Tuesday that could bring unprecedented levels of redevelopment money to Downtown Albuquerque and other city centers across the state through a complex tax increment financing arrangement (cheat sheet). And whether from the lawmakers themselves or the group of officials and members of the public who made comments, the support came from seemingly every possible side of the debate: Urban, rural, Democrat, Republican, Albuquerque, and the rest of the state.
The bill's Democratic sponsor, Senator Carrie Hamblen, said she was motivated to carry the bill by her Las Cruces constituents and others in smaller towns. Joaquin Baca, the ABQ Core Neighborhood Association president and Middle Rio Grande Conservancy District board member, argued that urban development spurred on by the bill would wind up being a boon to farmers. Because the MRGCD tax base is greatly bolstered by payments from expensive Downtown Albuquerque properties, he said, more development there would help to secure future water distributions for decidedly less urban land up and down the Rio Grande Valley.
Duke City officials were on hand as well: "In Albuquerque, this bill is critical to the successful redevelopment of our Downtown," said Sara Fitzgerald, the senior vice president of policy research and strategic communications at the Greater Albuquerque Chamber of Commerce. "It will give us a fighting chance, using our own local revenue."
Terry Brunner, the director of Albuquerque's Metropolitan Redevelopment Agency, argued that the financing contemplated by the bill is used elsewhere to great effect.
"It's what you see when you travel to other states and wonder how that main street got redeveloped," he told senators.
The usual partisan divide, meanwhile, was nowhere to be found: The senior Republican on the committee, Senator Gay Kernan of Hobbs, made the motion to pass the bill, with the second coming from fellow Republican and Belen native Joshua Sanchez. The yes votes on the Democratic side included Peter Wirth of Santa Fe, the Senate's majority floor leader.
Nobody spoke in opposition.
The committee did amend the legislation to change the effective date from July of 2023 to July of 2024, something Senator Linda Lopez, who proposed the amendment, said would help state tax authorities prepare for the complexities of the bill. Brunner indicated that he had no objection to the change.
SB251 would allow areas that local governments have designated as primed for redevelopment to apply to collect a portion of property and gross receipts tax revenue above and beyond a set baseline for up to 20 years. If all goes according to plan, that money is reinvested in projects that in turn grow the tax base, bringing in even more redevelopment money and eventually returning to local and state government a revenue stream that is bigger than it would have been otherwise. The money raised could be spent on a whole host of projects – everything from new housing and the renovation of dilapidated commercial buildings to beautification and infrastructure.
Tracking the bill: SB251 now heads to the Senate Finance Committee, which meets every weekday at 1:30 p.m. We'll do our best to give readers notice when the bill is up for a hearing, but given the vagueries of legislative scheduling, that may not align with our normal publishing schedule. To ensure you get a heads-up, sign up for our special between-editions email updates by contacting us here.